In this weekend's fight card, Raoni Barcelos fought Khalid Taha and won. There is a lot we could say about this fight, but for this technique analysis, I'll stick to my favorite kick: the leg kick. Barcelos used them well and I want to point out something that is too often overlooked. But first, here is what happened: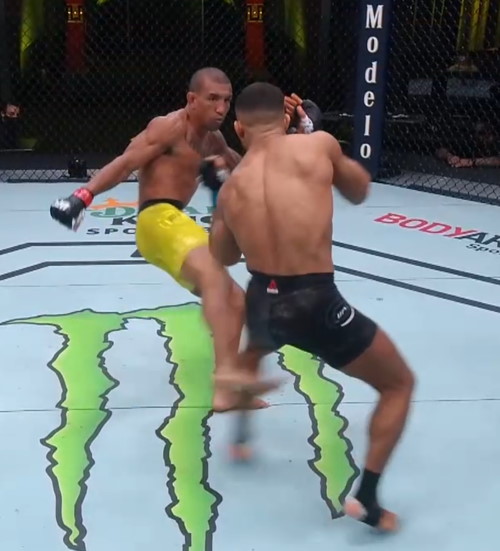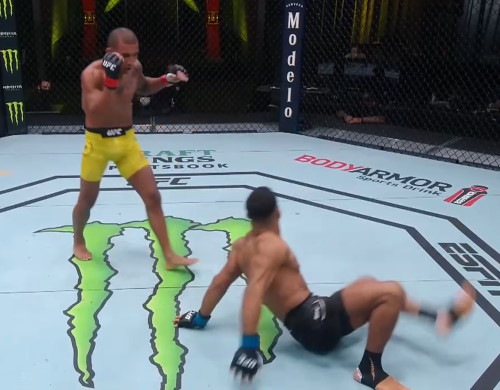 Throwing the leg kick without preparation is risky. It is relatively easy to spot the attack and your head is typically on or close to center line. And unless you are freakishly taller than him, you will be in his striking range. That means the opponent can fire blindly if he wants, as long as it is forward and it will connect with your head. There are numerous knockouts that happen just because of this.
Case in point:
The main reason why Barcelos didn't get countered is that he generated sufficient forward pressure to generate stopping power with his leg kick. I talk more about that in the first podcast episode, so listen to that too, but it is a key point. There are different ways of using the leg kick, but if you throw it "naked" – without set up- then you need to stop the guy from countering you.
The best way to do that is to break his structure so he can't attack you.
Dropping him on his ass does just that…
So an excellent job by Barcelos here in this phase of the fight. I look forward to seeing more of his fights.
For more on how to use the leg kick, go here.
(Visited 184 times, 1 visits today)